Invisalign in Brentwood, TN
Welcome to Brentwood Dental Center, where your dream of a beautiful smile becomes a reality. Dr. Nelson and our team are dedicated to providing exceptional dental care, including Invisalign treatment, to our valued patients in Brentwood, TN, and beyond. With our expertise in correcting various dental issues and the advanced technology we employ, we offer discreet and effective solutions to enhance your smile.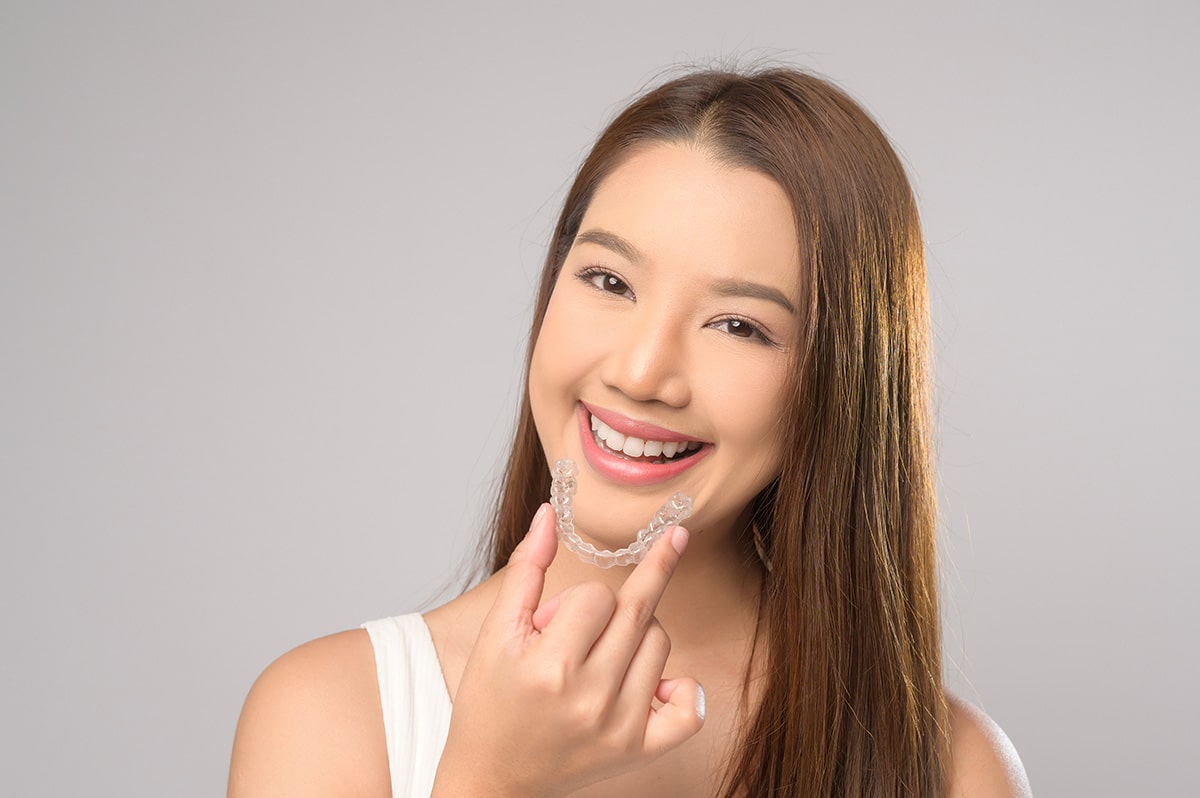 What is Invisalign and How Does it Work?
Invisalign is a revolutionary orthodontic treatment that utilizes clear aligners to gently and discreetly move your teeth into their correct positions. Unlike traditional bracket and wire braces, Invisalign aligners are virtually invisible, allowing you to achieve a stunning smile without the appearance of metal braces.
Can Invisalign Help Correct Various Dental Issues?
Yes, Invisalign is a versatile solution that can address several dental concerns, including aesthetic improvements, correcting bite issues, and alleviating TMJ symptoms. As it pertains to health and hygiene, it can treat crowded teeth to lower your risk of cavities or gum disease. Whether your case is mild or advanced, our experienced team at Brentwood Dental Center can create personalized treatment plans to suit your unique needs.
Why Choose Brentwood Dental Center for Invisalign?
Our practice stands out as a premier choice for Invisalign treatment due to several compelling reasons:
Comprehensive Treatment:

We have the expertise to handle both mild and complex Invisalign cases. From simple alignment adjustments to more extensive smile transformations, Dr. Nelson and our team have got you covered.

Smile Design Software:

To ensure the most aesthetic outcome, we employ smile design software, enabling us to plan your treatment thoroughly from start to finish. If cosmetic bonding or other enhancements are needed at the end of the Invisalign treatment, we can integrate them prior to your final retainer.

Dedication to Your Oral Health:

Throughout your Invisalign journey, we prioritize the health of your gums and teeth.

Regular check-ups

and

cleanings

are essential during orthodontic treatment. We include an electric toothbrush with every Invisalign case to help reduce plaque buildup. 
Invisalign Treatment Duration and Discomfort:
Our office treats all ages above 7 years old, and we consider the health of the gums and teeth before recommending a treatment plan. The length of your Invisalign treatment depends on the complexity of your case and the desired end result. While some patients may complete their treatment in as little as 4 months, others with more intricate cases may require up to 2 years. Consistent patient compliance, including wearing your aligners for at least 20 hours a day, greatly impacts the treatment duration.
During your treatment, you may experience intermittent tenderness as your teeth begin to shift. However, discomfort with clear aligners is typically mild and infrequent. 
Schedule Your Invisalign Consultation Today
Ready to achieve a stunning, confident smile with Invisalign? Take the first step towards a transformed smile by scheduling an appointment with Brentwood Dental Center. Dr. Nelson and our expert team will evaluate your dental needs, discuss the Invisalign process, and create a personalized treatment plan to help you achieve the smile of your dreams. Don't wait any longer; contact us now to book your Invisalign consultation!